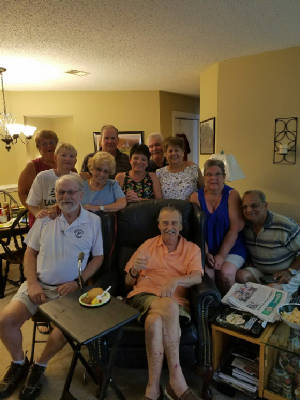 A group of NJ JCI Senators traveled to South Carolina and enjoyed the hospitality of Ross James #29976. Pictures from the impromptu social are below. In attendance: Mike #29573 and Sue Colabelli, Greg #34528 and Annette Crysler, Lester Genung #35306, Jean Jacquemot #75374, Hector #34398 and Elaine Rivera, Kathy Sawka #57188 and Rob #31275 and Carol Whitestone. There was good food, drink, golf and lots of stories! Thanks for sharing Ross James
Click here to see more pictures from the social
Congratulations to 2017-2018 NJ JCI Senate President Rose Sebeski #74414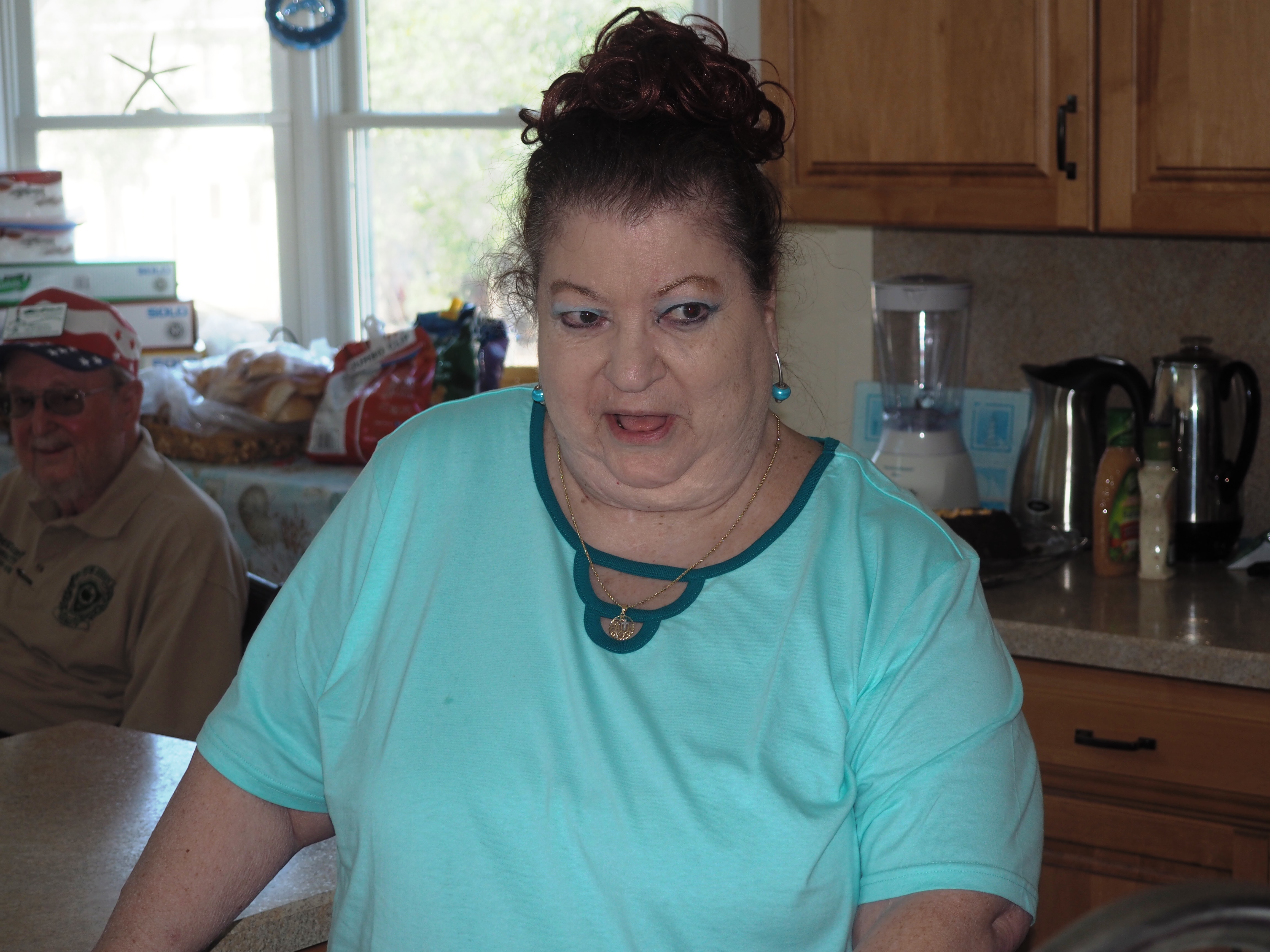 MAI 2017 in Maryland saw a great turn-out of NJ folks.

President Frank Mennuto, Mike Arons #18862, Mel #28320 and Melanie Fickas, Helen #55320 and Bob #48025 Friedlander, Dexter #16177 and Nance #46191 Graef, Jim #34554 and Jackie #56981 Miller, Rose Sebeski #74414, Terry Seeley #46163, Marcia Sheppard #69598, Joan Thomas and John Shelby Wells #25672 were all in attendance.

NJ was honored as the top growth State in the Country - thanks to all those folks who responded to the paper mailing and sent their dues.

NJ Treasurer Terry Seeley was honored with the Dick Thomas Memorial Award for outstanding State Treasurer in Region 2. She graciously accepted the award accompanied by Joan Thomas, Dick's widow.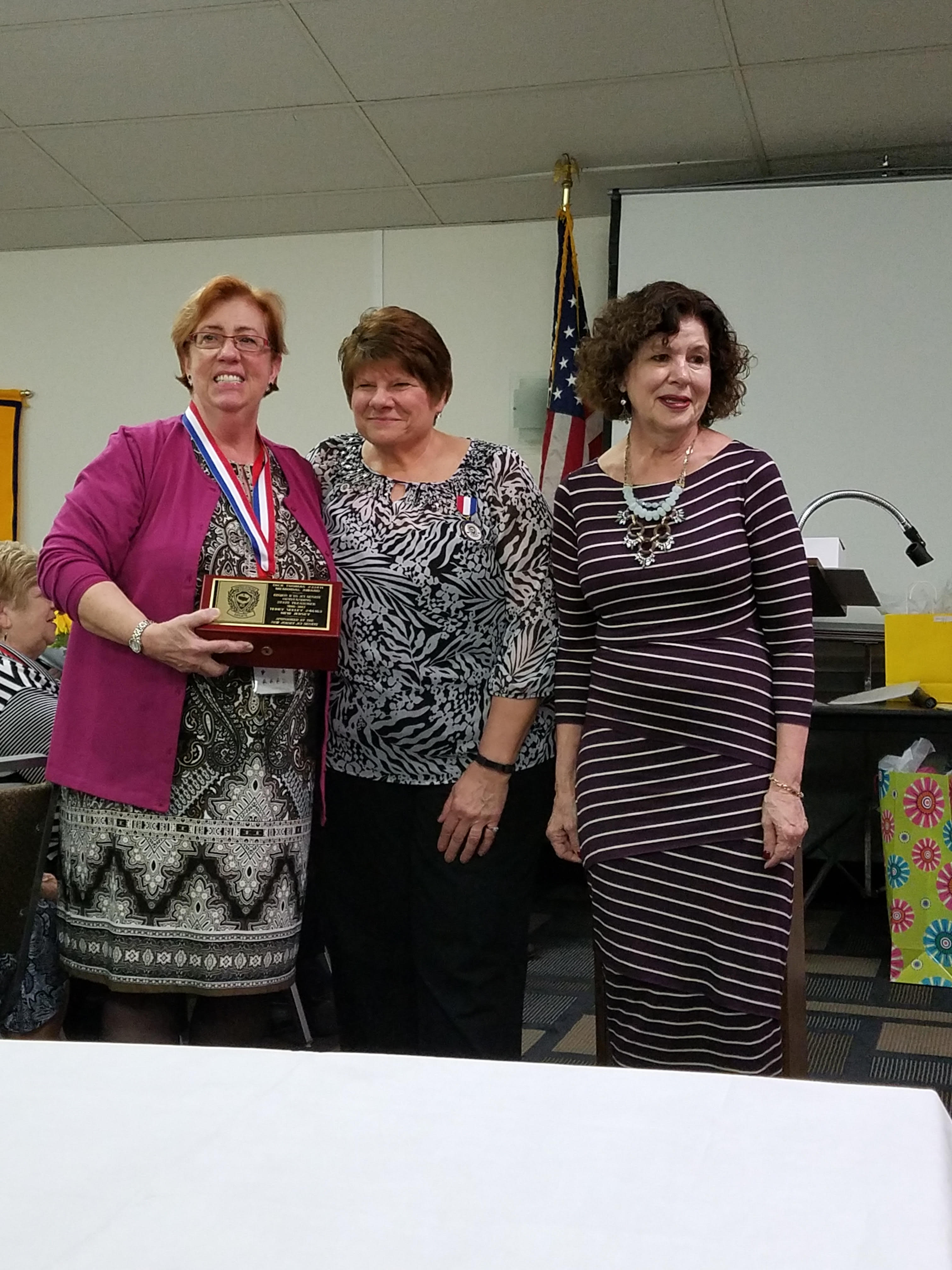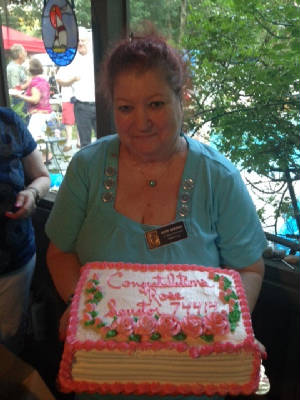 Very belated CONGRATULATIONS to Senator #74414, Rose Sebeski. The Senatorship was awarded at the Summer Social held at the home of Elaine and Hector Rivera and Kathy Sawka. We had a super turnout with over 50 folks in attendance, including NJ Jaycee President Dana Palmer and US JCI Senate Region II VP Gary Duell and his wife Diane.

A wonderful time was had by all.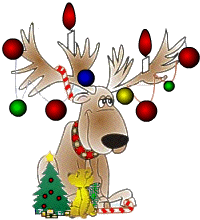 SHELBY'S RECAP FROM THE 2014 SENATE SOCIAL
The night was not quite wintry, but dark and very wet. Rain splashed off our windshield for the two hours it took us to get to the NJ JCI Senate Holiday gathering at the Friedlander's warm & inviting abode.
With the graying of our organization (meaning some have passed and others are ill and many have other priorities such as new spouses with extended families) and with very few new members due to the demise of the parent Jaycee organization we are sadly getting used to small groups at our events being just the way it is.
As you have read previously we had a grand time in September with 8 of us showing up for a wonderful day at Monmouth Race Track. For the Holiday Party I knew of 11 positive RSVP's and I thought, "Great, three more than Monmouth!"
Frank Mennuto (thank goodness he was driving) and I arrived at the Friedlander's right at 6PM and if you have been there you know it is not a brightly illuminated street :) There was a car cruising very slowly coming toward us and we knew it had to be one of our party scoping out which driveway to turn into.....sure enough as we pulled up next to them it was George Muniz & Alisa asking if this was the right place; we said yes, just turn into the driveway on your right.....long story short, George didn't but it all worked out later :)
Frank turned his car around and we entered the driveway and President Bob came out and carried the Senate bar in from the back seat, since he respects his elders and really doesn't want them tripping and dropping the liquor :)
Once inside Bob told us that Terry Seeley was sick and could not make it and Marcia Sheppard had a bad back and had to stay home and since those ladies were his ride, a PA Senator who had been planning on attending - was not. So quickly our count became the magic 8 again. George and Alisa came through the door so 6 of the 8 were present.
We all asked one another if John & Sue Reiner were still coming with the weather being so lousy and them having the longest journey to get to Galloway Twp ? Suddenly the door swung open and.....Holy Cow ! It was Joan Thomas and her neighbor from Little Egg Harbor, Barbara "Bunny" Sangsten. What a pleasant surprise; although it turned out Joan had RSVP'd, I just did not get the word. Joan told us that she had gotten there 15 minutes earlier but there were no cars parked so she thought she might have the wrong date and they almost turned around and went home; but they drove back by one more time and she saw cars & activity and they came in :)
Bob & Helen helped serve drinks and Bunny abandoned her search for a sweet white wine when she spied the Cherry Vodka amidst the bottles in the Senate bar. John & Sue arrived a half hour later and easily earned the prestigious "Man Mile Award", for those with faulty memories that is a ceremonial A-ward for the one traveling the farthest to attend a function.
The ten of us talked and laughed and shared stories and had a fine feast provided by our hosts. Joan told us of weddings and children and two months in Australia and looming weeks in Florida. Bunny (it turned out she is very good friends with a couple in Little Egg Harbor and the wife has been a BFF with Helen for 40 years !!! - that small world deal strikes again) Also Bunny shared with us that she had worked in a Sex Crimes Unit for 15 years - one never knows!!!
The Reiner's told us that they had recently closed on land in Tennessee, south of Knoxville heading toward Chatanooga and after their home is built on the land they would be retiring there; ya'll come :) The Freidlander's said their son, Nicholas, was doing well in college and all is grand on their home front. Frank told us that his commercial insurance business in Staten Island was keeping him busier than ever and Shelby explained that Frank was his date again like at Monmouth since Debbie is busy working on a paper for one of her course for her Master's degree.
As the party wound down it was announced that Len & Janice Brzozowski had volunteered to host the Super Bowl party (Feb 1st for non football fans). Details will follow - and if you are not football fans, maybe you should plan to attend for a few hours anyway to see olds friend before they are no longer in the area, for whatever the reason !

MONMOUTH RECAP from John Shelby Wells

Was it a scene out of "Goodfellas" or one of the "Godfather" epics or just a recreation of one of the "Political Hack" led meetings when men & wives were working out Hector "Hubcap" Rivera's run for NJ Jaycee Statewide President a couple or three or more decades ago ?:)

It was outdoors on a wonderful day in September; square metal table suitable for a poker game - did anyone hear strains of "You Got To Know When To Hold Em, Know When To Fold Them", etc, etc, etc.?

On one of the four sides sat Frank Mennuto, a true godfather type initially from Clifton in Bergen-Passaic, later from Hopatcong in the Great Northwest; also hailing from Hopatcong was Past President Shelby Wells who fancied himself a "hack" of the highest order; opposite them sat Alisa Hodawanec with her personal bodyguard for the past 10 years or so, George, glued to her side as she smiled sweetly and purred, "I am here fronting for Tony (the raisin) Giandusa - anybody got a problem with that" ?

The sweetest couple, especially in terms of their slightly elderly innocent looks, was certainly the Fanwood-ScotchPlains duo of Ma Barker ancestry AKA Joe Steiner's extended family of Lenny & Janice Brzozowski. They smiled broadly, were mostly silent, but shouldered huge sticks !!!

The actual leaders of the summit gathering was the heretofore largely unknown couple from down near Atlantic City way; they had formerly been talked about as the East Coast family members of the Terry Seeley mob; they had recently scored some of their own hits and were making a name for themselves as the Bonnie & Clyde of the Pinelands: Bob & Helen Friedlander.

Due to his reputation & status among his peers, Frank Mennuto had been accorded "safe haven" status allowing him to bring in members of his extended family for a quick bite, race action & drink before they slipped away early under the withering gaze of the mainstays of the meet. Those folks were introduced by Frank as Mark, Monica & young Justin as habuties of Staten Island.

As the 10th race came & went and most of us simply tossed our losing tickets into the trash barrel, we all said our good-byes along with chants of We Will Get Them Next Year !! A grand time was had by all and the FBI got no new pictures or recordings, so a successful event was the word for the day !!!

INDIVERI DEDICATION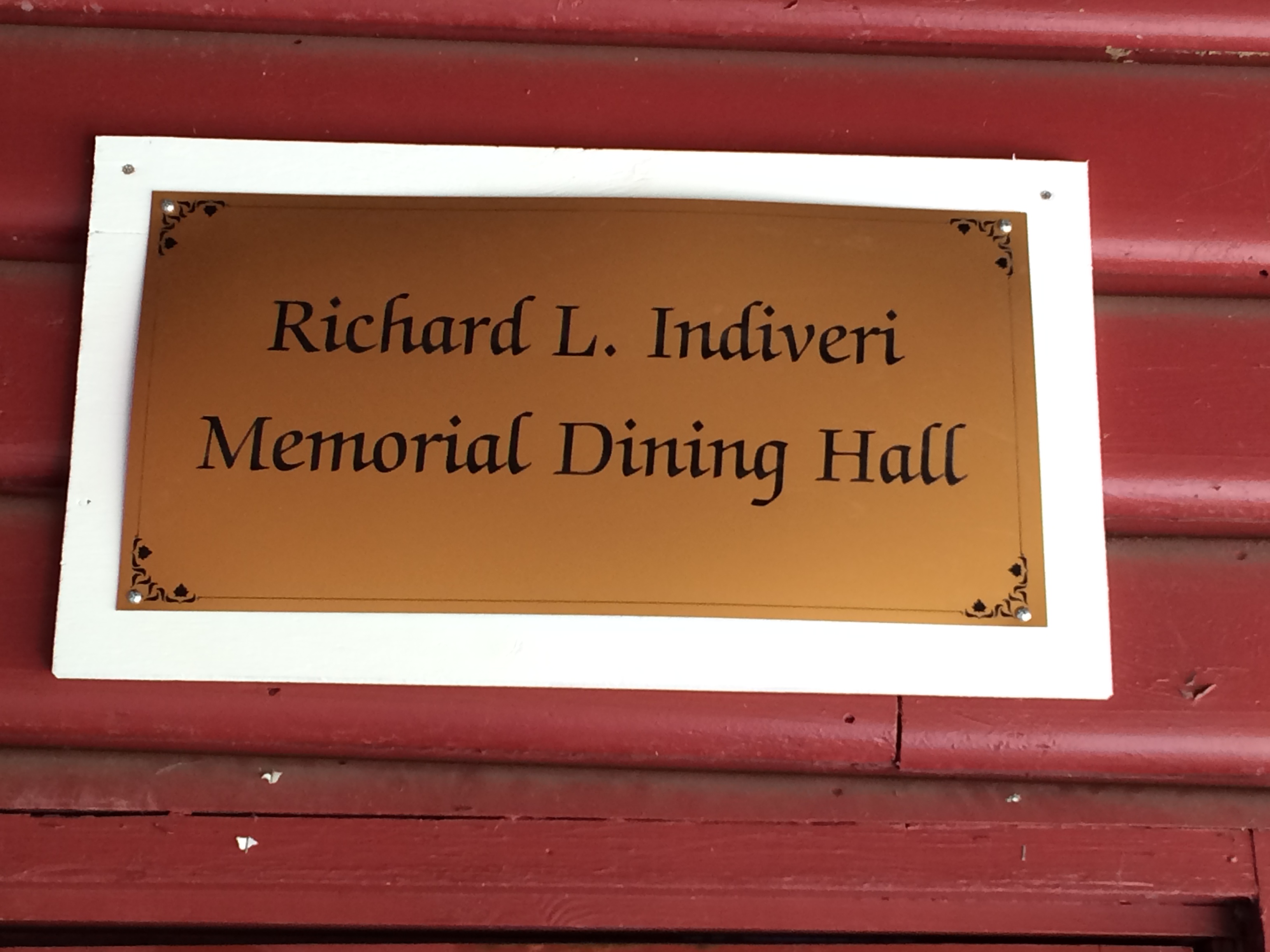 The dedication of the Dining Hall at Camp New Jersey Jaycee on Saturday, June 7, 2014 was a big success. There were 40+ Jaycees, Senators, Keywomen, family and friends in attendance. In attendance were:

Pat #11132 & Marge Delsi, Lynn DiPietropolo #56982, Jack Frew #15452, Bob Friedlander #48025, Dexter #16177 & Nance Graef (plus 3 grandchildren), Jackie & Mark Grim, Janet Indiveri KW #26, Jim Inman #47462 (plus 2 children), Jim Jeffries #12347, Bob Mack #27857, Jim #34554 & Jackie #56981 Miller, John #68127 & Pam Mozart, Bob #15879& Susan Mueller, Jean & Bob #33580 Neumann, Robert #17284 "Doc" Purnell, John #31599 & Sue Reiner, Bob #18117 & Liz Schmid, Terry Seeley #46163 (plus son Michael, the official photographer for the day, and granddaughter Emma), Marcia Sheppard #69598, Reggie #68946 & Claudia Slaten, Jeff (#15755) & Karen Stanley, Joe #27043 & Pam Steiner, Shelby Wells #25672 and Rob Whitestone #31275.

NJ JCI Senate President Bob Friedlander #48025 opened the program with a welcome and read a few words from Camp Board member Jim Sandham #42538, who was unable to attend. Chairman of the Board Reggie Slaten #68946 gave the invocation and turned the program over to Past President Marcia Sheppard #69598, who initiated the fundraising campaign that enabled the NJ JCI Senate to donate $6,000+ to improvements to the Dining Hall. Marcia introduced Janet Indiveri, Keywoman # 26, who spoke about how proud Dick would be to be honored in this way. The program was then turned over to Frank J. "Jeff" Stanley #15755, a fellow signer on the mortgage. Jeff provided some insights into the search for the Camp and how the process unfolded with the Jaycees and the Senate. He spoke affectionately of his long-standing friendship with Dick and how strongly Dick felt about the Camp. Jeff provided some interesting documents that can be downloaded at the bottom of this page. The program ended with the Jaycee Creed.

A Champagne toast and snacks rounded out the day. Many attendees took the opportunity to tour the Camp and see the many changes that have been made.




Some members of the CHO Jaycees took a few moments to remember Jay Greger # 37320, who passed away in November of 2013. One of Jay's favorite places was Camp New Jersey Jaycee so he was honored by the Lake and by CHO's old cabin.

Frank Pirello #38149, Camp Jaycee Board Chairman and TomBaffuto, Executive Director of the Arc of NJ, provided written updates (see below) on how the Camp started and where we are now.

"We are pleased that the dining hall has been dedicated in Dick's name. I hope that everyone who attended was impressed with our camp. It is an outstanding legacy to the NJ Jaycees and specifically to those Jaycees, like Dick, who had the insight and determination to get it started.
Thanks,
Frank"

"I hope everyone had a chance to view all the work going on at camp this year. The NJ Camp Jaycee Board of Director's in collaboration with the Jaycee Foundation are committed to several capital improvements at the Camp.

A campership costs $1,500 for a two week session. We are always looking for help in this area.

In regard to questions about cabins at NJ Camp Jaycee, we have a total of 48 cabins or structures at the camp. In girls camp we have 9 camper cabins, a shower house and a staff cabin. In boys camp we have 12 camper cabins, a shower house and a staff cabin. In addition to these we have the office, day camper building, laundry cabin, library, boat house, lake pavilion, dining hall, infirmary, nature cabin, arts and crafts cabin, rec hall, staff hall, caretakers cabin, waiters cabin, 4 senior staff and specialist cabins, director's house, sports and games cabin, gazebo, petting zoo corral and a large shed for maintenance equipment.

Of these cabins listed above, it should be noted that the following cabins and structures were added after the purchase of the camp.


New Infirmary
New Caretaker House
Two New Camper Cabins
New Nature Building
New Gazebo (by the animal barn)
New Pavillion
New Equipment Shed

And - the buildings completely replaced:

New Office
New Boat House
New Shower Houses (Boys & Girls)

Tom Baffuto, Executive Director

The Arc of New Jersey"
To download Jeff Stanley's notes from the event and other documents, click on the links below:
Click here to download Jeff Stanley's Notes
Click here to download the agenda from November 1974 Meeting
Click here to download the list of Camp Facilities 1975
Click here to download the 1975 Camp report
Click here to download Herb Koenig's memo circa 1974
Click here to donated the Camp Statement of Sale
Click here to see pictures of the Dedication and the Camp (Special thanks to Michael Seeley for being the event photographer)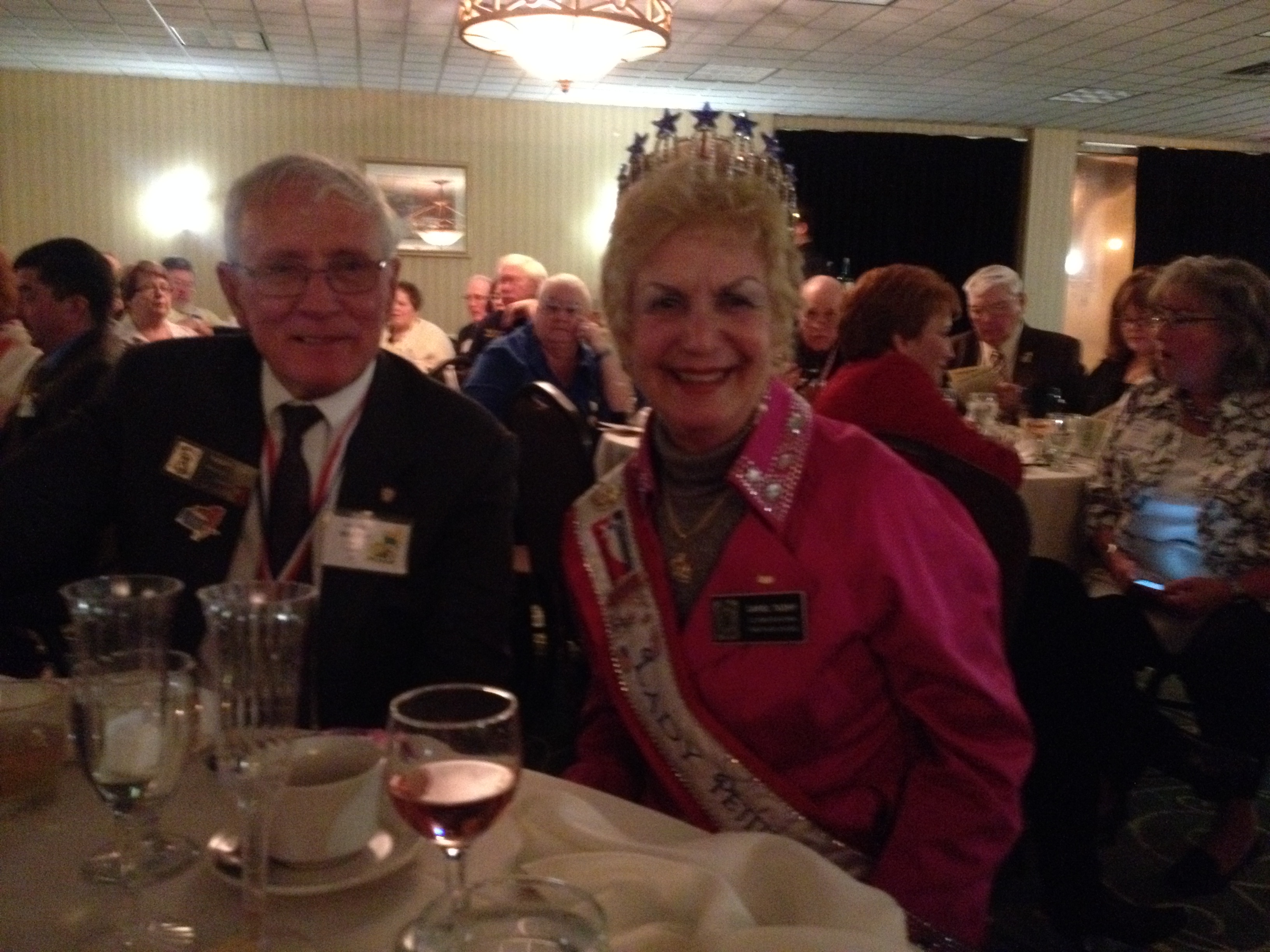 Dear Jaycees, Jaycee-ettes, Senators & Keywomen,
A heartfelt "Thank You" goes out to all of you who thought so much of me and my many years of Jaycee-ette work and accomplishments to award me with Senatorship #73044.
Believe me you really "pulled it off" as I have never been more surprised in my life !! It is truly an honor to be so recognized by my peers.
A special "Thank You" to Shelby and the late Dick Thomas who started the process, to Dexter who gave a great presentation with never a clue until he said "Tuohy", to Jim Rose who read off all my much forgotten, but fondly brought back to mind, accomplishments. Jim also rented a suite, when he didn't need to, just to have a place to host that very special N.J. Senate tradition of a "pouring."
Believe me my friends, I treasure all of you and the many fun years we have shared together !
Sincerely,
Carol Tuohy
Senator # 73044
Keywoman # 9
Amerada Fellowship #23
Senate Friendship # 20

MAI 2014 - GRAND ISLAND, NY - RECAP
President Bob Friedlander led a delegation of sixteen NJ JCI Senators & spouses on March 28, 29 & 30 up to Grand Island, NY to celebrate the 30th MAI (Mid-Atlantic Institute) Conference.
Those attending along with Bob were Terry Seeley, Marcia Sheppard, Jim & "Mom" Miller, Dexter & Nance Graef, Bob & Jean (Grammie) Neumann, Jim & Jan Rose, Mike & Norma Arons, Shelby, Marty & our newest NJ JCI Senator, Carol Tuohy # 73044 !!!
There were quite a few highlights for New Jersey beyond the obvious delights of sight seeing at next door Niagara Falls. One of the stand out scenes was the splendid presentation of Carol Tuohy's Senatorship by Dexter Graef who disguised the identity of the recipient by wrapping his talk around the classic "The Man In The Glass" (reminding us that we MUST be true to ourselves above all). Carol was absolutely stunned and stood smiling & trembling in the front of the room as husband Marty affixed the Senate pins in the appropriate places. During that touching process, long time friend Jim Rose recited to the assembled crowd a list of her accomplishments during her decades long Jaycee affiliated activities. At the banquet end we New Jerseyans went up to a suite procured by Jim & Jan Rose to conduct the time honored "pouring" of champagne by our newest Senator - a Grand Island time was had by all :)
Dexter also made an additional two ladies from NJ exceedingly happy by bestowing the coveted Jersey She Devil title (and pins to be worn proudly) on Terry Seeley and Jean (Grammie) Neumann. So naming them She Devils (Terry for her 15 years of service chairing the MAI fund raising auction and Jean for becoming an integral fixture in our NJ JCI Senate fabric in an amazingly short time) The two ladies thus joined a group of 18 other special ladies that Dexter along with Trading Pin Master Jesse Lee & Pompous Bob Neumann have chosen to honor from 1980 to today !. For you long time Jaycee pin traders we know you are shaking your heads and wondering just how to get your hands on the first newly minted Jersey Devil pins in many a year ! Hint, hint: any one for a road trip to Pigeon Forge, TN next February ?
Special NOTE: while attending the MAI, Nance and Dexter were notified that their grandson, Dexter Dinsmore, passed the Eagle Scout Board of Review. He has earned his Eagle award which will be formally presented at a Court of Honor to be held at a later date. His Boy Scout involvement started with Cub Scouts and has led to his achievement of this high award!
Our own Terry Seeley & Marcia Sheppard were very classily recognized by Region II NVP Jackie Grim for their 15 years of service to MAI (US JCI Regions II & III) for Terry being the "Chair" & Marcia her "right hand" partner in various good deeds and a few nefarious activities over the fifteen years on very successfully conducting the fund raising auction; their leadership efforts raised in excess of $30,000 over the years ! Those two ladies have left mighty large shoes to fill as they step down to allow others to follow.
There was another presentation at the Saturday night banquet that brought a lump in our collective NJ throats; the very first presentation of the Dick Thomas Memorial Award to the Region II Outstanding State Treasurer for 2013/14. The award was given to Dick Howell of the Delaware JCI Senate jointly by NVP Jackie Grim & NJ President Bob Friedlander.
An ominous event took place Saturday morning when NY JCI Senator Chris Nunn suddenly had a serious health episode. I will share our NVP Jackie Grim's rendition of the event: "I just wanted to say "THANK YOU" to New Jersey Senate President, Bob Friedlander; New York Senate President, Michele Wallen; Pennsylvania Senate President Beth Newill and Pennsylvania's very special mentor and political advisor, Joe Sabella! These four people are special heroes and good people without a doubt
Saturday morning during the business meeting New York member and Region II political advisor, Chris Nunn was taken ill and needed immediate medical help. Without hesitation these four people went to Chris' aid performing the necessary first aid he needed and keeping him calm until help arrived. It was a difficult situation but these four worked to help someone/a friend in need!"
In closing, to any whom I have forgotten or not spelled your name correctly or related the events a bit skewed one way or the other, it is entirely my fault as I reconstruct the events utilizing the notes written on the back and borders of program booklets, torn paper napkins and what actual memory I have left:) Kudos go out to Bob & Jean Neumann for driving me up to MAI and to Mike & Norma Arons for bringing me back home; highly appreciated !
Yours in the JCI Spirit, Shelby
Thank you to Jan Mercer-Rose for the super pictures of MAI 2014! Click here to check them out.

The NJ JCI Senate lost a long time member on 3/19/13. We sadly announce the sudden passing of Richard L. (Dick) Thomas #22411.
Richard Llewellyn Thomas, 69, of Little Egg Harbor, NJ, passed away Tuesday, March 19th, 2013, at Southern Ocean Medical Center in Manahawkin, NJ.
Dick is survived by his wife, Joan Thomas, his daughter Robin and husband Tyson Gischel, his son Sean and wife Jennifer Thomas, Heather Carulli, and Amy Huizing, and his grandchildren, Taylor and Justin Gischel and Mason Thomas, and his fluffy pet Abby.
Dick was born on February 22, 1944 in Plainfield, NJ. He earned his Master's Degree at Fairleigh Dickinson University. Dick had numerous hobbies and interests, but was first and foremost a passionate fisherman and boat captain. He was a handyman, the master of all home projects – he loved to tinker in his workshop, his yard, and on his boat. He was a grilling connoisseur, loved to entertain, appreciated a good cigar and happy hour, and recently took an interest in golf. Dick was a volunteer and active member of many organizations during his life, including Jaycees, the Tuckerton Seaport and a local Corvette club. In his younger days he was an Eagle Scout, and an EMT serving on the Plainfield Rescue Squad.
A gathering of friends and family will be held Friday, March 22nd, 6-8 pm at Wood Funeral Home, 134 East Main St, Tuckerton, NJ. A second gathering will be held Saturday, March 23rd, 10-11am, followed by a memorial service beginning at 11am.
In lieu of flowers, please send donations to Camp Jaycee at www.campjaycee.org.


Take a stroll down memory lane - those of you who were invovled in the Senate in the late 80s. Region VP Regina Cannelongo-Mahaney was good enough to pass the documents along to President Marcia during a recent trip of PA Senate's Board Meeting. Check it out!
Click here to download the document